4 Ways to Support your Mental Health during Summer Break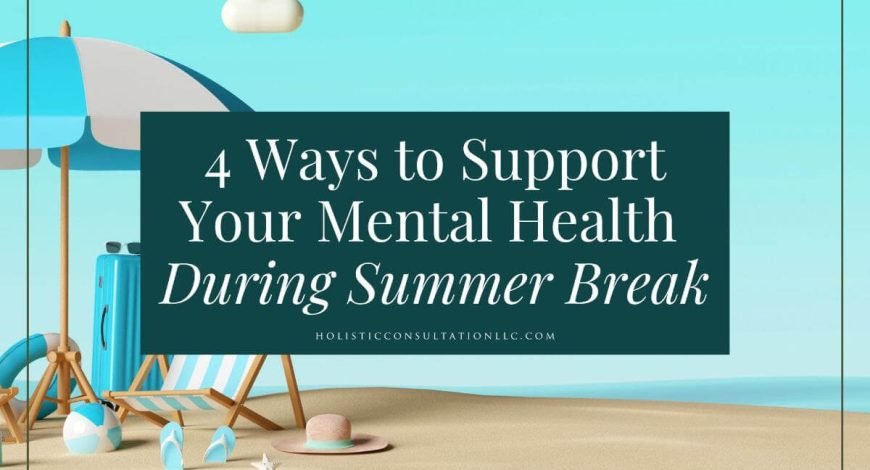 Summer can be a lot of fun, but for college students, it can be a tough transition. After the stress of finals and wrapping up the semester, it's nice to have a break. However, the changes and social demands that come with summer break can make it tricky to support your mental health.
It can also be distressing to struggle with your mental health during a time of the year when it seems like most people are having the time of their lives. Summer break doesn't last forever, so it can feel really urgent to get everything done that you want to, which sometimes means that supporting mental health takes a backseat. You don't have to choose between having fun and taking care of your mental health during summer break, though. 
Here are 4 ways to support your mental health during summer break:
Stick to a routine
One reason that summer break can be tricky is because it interrupts your normal routine. When you are dealing with mental health issues, having a routine can be a supportive coping skill. Knowing what is coming and what is expected of you each day can help when you're dealing with mental health issues.
Finding a routine that works for you in the summer can be helpful for this reason. You can still have fun and be flexible in your day-to-day when you have a routine. Try giving yourself a few goals or expectations for each day so you know what's coming. It might make you feel better! 
Spend time outside
In Ohio, we don't always get the kind of weather that makes you want to be outside, so when it's nice out it feels really special. Time outside has many benefits, like reducing stress, improving self-esteem, and even better sleep.
Spending time outside doesn't have to mean that you go for a long hike every day if that's not your thing! Sitting on your porch or in a friend's yard can be a nice way to absorb some vitamin D, boost your mood, and appreciate the present moment. 
Practice coping skills
The best way to learn new coping skills is to practice them when you're not feeling emotionally activated or distressed. When you're distressed, it's hard to think of how to cope in the moment, so it's easy to turn to coping strategies that are habitual. Summer break can be a good time to practice new coping skills that you want to use so that you're in the habit of using them the next time you're upset.
Summer break can also give you a chance to look into mental health resources that you haven't had time to dig into over the semester. If you've been wanting to read a particular book or listen to a podcast on a mental health topic, summertime is a good option if you're not too busy. 
Keep up with your mental health treatment 
It's important to keep up with your current mental health treatment plan during summer break. If you currently take medication, make sure to keep up with that during the summer.
If you're currently working with a therapist, keep going to your sessions as much as you are able to during your break. If you're leaving town for the summer, arrange to transfer care ahead of time (if going out of state) or if you're staying in Ohio continue working with your Holistic Consultation therapist via online therapy.
Self-care is an overused phrase, but it's talked about for a reason. Taking care of yourself isn't always easy when you're struggling. Summer break is often full of social demands, work obligations, and things to do, but make sure to get enough sleep. Get enough to eat throughout the day and make sure to drink plenty of water especially when it's hot out. Taking care of the basics can help set you up to have an easier time. 
You're not alone if you struggle with your mental health during summer break. If you're looking for more support, our therapists can help, either in our Columbus office or throughout Ohio via online therapy. Contact us today to schedule an appointment!